Coronavirus Vaccination By Israel – Coronavirus Vaccine Found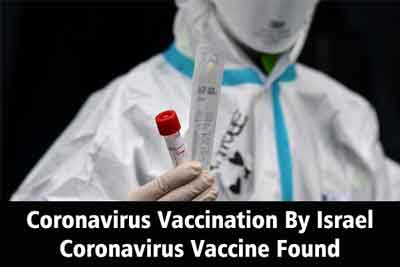 A coronavirus shot is more than 18 months away, and attempting to accelerate the process could be "very risky," a former vaccine evaluator has told The Times of Israel.
Manfred Green said he understands the public pressure for relaxing testing procedures, given the scale of the pandemic. But a badly tested vaccine could have "adverse effects," he argued.
Green, who has conducted vaccine tests for Israel's Health Ministry, said: "If a vaccine is developed in the next few months, you can imagine if there were a one in 1,000 or one in 10,000 adverse reaction. That could be very problematic if you're giving it to millions of people."
In Israel, ever since the Science Ministry made headlines two weeks ago by saying that a state-funded institute's vaccine could be three months away, there is excitement about the research and widespread support for accelerated testing. In America, the Food and Drug Administration has signaled that it is open to speeding up normal processes.
"When responding to an urgent public health situation such as novel coronavirus, we intend to exercise regulatory flexibility and consider all data relevant to a certain vaccine platform," FDA spokeswoman Stephanie Caccomo said in a statement.
Sources: https://www.timesofisrael.com/top-doctor-coronavirus-vaccine-will-take-18-months-rush-it-at-your-own-peril/
Safety Precaution
How to handwash
Clean hands with soap and water or alcohol-based hand rub
Cover nose and mouth when coughing and sneezing with tissue or flexed elbow
Avoid close contact with anyone with cold or flu-like symptoms
Symptoms
People may experience:
Runny nose
Sore throat
Cough
Fever
Difficulty breathing (severe cases)
Consult a doctor for medical advice
Source: World Health Organization
Help and information
Coronavirus advisory information
World Health Organization
Websitewho.int/emergencies
Coronavirus condition overview
World Health Organization
Websitewho.int/health-topics
Coronavirus Q&A
World Health Organization
Websitewho.int/news-room/q-a-detail
What Precautions You Need to Take according to Bible?
Read Psalms 91 KJV?
91 He that dwelleth in the secret place of the most High shall abide under the shadow of the Almighty.
2 I will say of the Lord, He is my refuge and my fortress: my God; in him will I trust.
3 Surely he shall deliver thee from the snare of the fowler, and from the noisome pestilence.
4 He shall cover thee with his feathers, and under his wings shalt thou trust: his truth shall be thy shield and buckler.
5 Thou shalt not be afraid for the terror by night; nor for the arrow that flieth by day;
6 Nor for the pestilence that walketh in darkness; nor for the destruction that wasteth at noonday.
7 A thousand shall fall at thy side, and ten thousand at thy right hand; but it shall not come nigh thee.
8 Only with thine eyes shalt thou behold and see the reward of the wicked.
9 Because thou hast made the Lord, which is my refuge, even the most High, thy habitation;
10 There shall no evil befall thee, neither shall any plague come nigh thy dwelling.
11 For he shall give his angels charge over thee, to keep thee in all thy ways.
12 They shall bear thee up in their hands, lest thou dash thy foot against a stone.
13 Thou shalt tread upon the lion and adder: the young lion and the dragon shalt thou trample under feet.
14 Because he hath set his love upon me, therefore will I deliver him: I will set him on high, because he hath known my name.
15 He shall call upon me, and I will answer him: I will be with him in trouble; I will deliver him, and honour him.
16 With long life will I satisfy him, and shew him my salvation.

Daily Prayers Reading Bible.
Fasting and you shall recieve whatever you ask in Jesus Name Amen!!!!!