where do people go when they die ?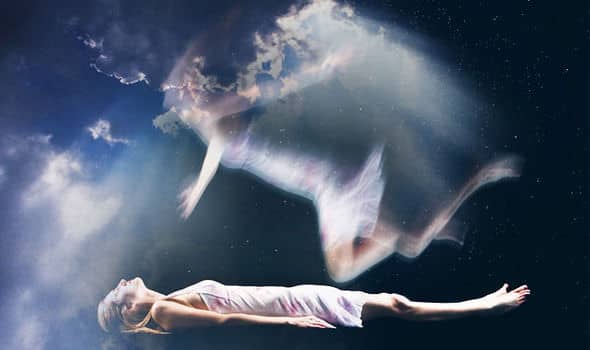 Every Christian Must Be aware that where do people go when they die? What happens after death? Take Bible and Read Yourself if not then read these Verses will show everything.
1.1 Thessalonians 4:16-17
For the Lord himself shall descend from heaven with a shout, with the voice of the archangel, and with the trump of God: and the dead in Christ shall rise first: Then we which are alive and remain shall be caught up together with them in the clouds, to meet the Lord in the air: and so shall we ever be with the Lord.

2.Isaiah 25:8-12
He will swallow up death in victory; and the Lord GOD will wipe away tears from off all faces; and the rebuke of his people shall he take away from off all the earth: for the LORD hath spoken it. And it shall be said in that day, Lo, this is our God; we have waited for him, and he will save us: this is the LORD; we have waited for him, we will be glad and rejoice in his salvation.
For in this mountain shall the hand of the LORD rest, and Moab shall be trodden down under him, even as straw is trodden down for the dunghill
And he shall spread forth his hands in the midst of them, as he that swimmeth spreadeth forth his hands to swim: and he shall bring down their pride together with the spoils of their hands.And the fortress of the high fort of thy walls shall he bring down, lay low, and bring to the ground, even to the dust.

3.John 14:2
In my Father's house are many mansions: if it were not so, I would have told you. I go to prepare a place for you.

4.Matthew 5:17-20
Think not that I am come to destroy the law, or the prophets: I am not come to destroy, but to fulfil. For verily I say unto you, Till heaven and earth pass, one jot or one tittle shall in no wise pass from the law, till all be fulfilled.
Whosoever therefore shall break one of these least commandments, and shall teach men so, he shall be called the least in the kingdom of heaven: but whosoever shall do and teach them, the same shall be called great in the kingdom of heaven. For I say unto you, That except your righteousness shall exceed the righteousness of the scribes and Pharisees, ye shall in no case enter into the kingdom of heaven.

5.Colossians 3:2
Set your affection on things above, not on things on the earth.

6.Matthew 7:13-15
Enter ye in at the strait gate: for wide is the gate, and broad is the way, that leadeth to destruction, and many there be which go in thereat: Because strait is the gate, and narrow is the way, which leadeth unto life, and few there be that find it. For our conversation is in heaven; from whence also we look for the Saviour, the Lord Jesus Christ:

7.Philippians 3:20
For our conversation is in heaven; from whence also we look for the Saviour, the Lord Jesus Christ:

8.Matthew 19:17-19
And he said unto him, Why callest thou me good? there is none good but one, that is, God: but if thou wilt enter into life, keep the commandments. He saith unto him, Which? Jesus said, Thou shalt do no murder, Thou shalt not commit adultery, Thou shalt not steal, Thou shalt not bear false witness,
Honour thy father and thy mother: and, Thou shalt love thy neighbour as thyself.

9.Psalm 73:25
Whom have I in heaven but thee? and there is none upon earth that I desire beside thee.

10. John 14:2-4
In my Father's house are many mansions: if it were not so, I would have told you. I go to prepare a place for you. And if I go and prepare a place for you, I will come again, and receive you unto myself; that where I am, there ye may be also. And whither I go ye know, and the way ye know.

11.Ecclesiastes 3:1
To every thing there is a season, and a time to every purpose under the heaven:

12.Revelation 7:13-17
And one of the elders answered, saying unto me, What are these which are arrayed in white robes? and whence came they? And I said unto him, Sir, thou knowest. And he said to me, These are they which came out of great tribulation, and have washed their robes, and made them white in the blood of the Lamb.
Therefore are they before the throne of God, and serve him day and night in his temple: and he that sitteth on the throne shall dwell among them. They shall hunger no more, neither thirst any more; neither shall the sun light on them, nor any heat. For the Lamb which is in the midst of the throne shall feed them, and shall lead them unto living fountains of waters: and God shall wipe away all tears from their eyes.

13.1 Timothy 6:7-8
For we brought nothing into this world, and it is certain we can carry nothing out.And having food and raiment let us be therewith content.

14. Revelation 21:4-8
And God shall wipe away all tears from their eyes; and there shall be no more death, neither sorrow, nor crying, neither shall there be any more pain: for the former things are passed away.
And he that sat upon the throne said, Behold, I make all things new. And he said unto me, Write: for these words are true and faithful. And he said unto me, It is done. I am Alpha and Omega, the beginning and the end. I will give unto him that is athirst of the fountain of the water of life freely.
He that overcometh shall inherit all things; and I will be his God, and he shall be my son. But the fearful, and unbelieving, and the abominable, and murderers, and whoremongers, and sorcerers, and idolaters, and all liars, shall have their part in the lake which burneth with fire and brimstone: which is the second death.

15.Amos 9:6
It is he that buildeth his stories in the heaven, and hath founded his troop in the earth; he that calleth for the waters of the sea, and poureth them out upon the face of the earth: The LORD is his name.

16.Genesis 1:1-2
In the beginning God created the heaven and the earth. And the earth was without form, and void; and darkness was upon the face of the deep. And the Spirit of God moved upon the face of the waters.

17.Psalm 108:5
Be thou exalted, O God, above the heavens: and thy glory above all the earth;

18.Ephesians 6:12
For we wrestle not against flesh and blood, but against principalities, against powers, against the rulers of the darkness of this world, against spiritual wickedness in high places.

19.Matthew 19:21
Jesus said unto him, If thou wilt be perfect, go and sell that thou hast, and give to the poor, and thou shalt have treasure in heaven: and come and follow me.

20.Luke 24:50-51
And he led them out as far as to Bethany, and he lifted up his hands, and blessed them. And it came to pass, while he blessed them, he was parted from them, and carried up into heaven.

21.Acts 1:9
And when he had spoken these things, while they beheld, he was taken up; and a cloud received him out of their sight.

22.Ezekiel 28:24-26
And there shall be no more a pricking brier unto the house of Israel, nor any grieving thorn of all that are round about them, that despised them; and they shall know that I am the Lord GOD.
Thus saith the Lord GOD; When I shall have gathered the house of Israel from the people among whom they are scattered, and shall be sanctified in them in the sight of the heathen, then shall they dwell in their land that I have given to my servant Jacob.
And they shall dwell safely therein, and shall build houses, and plant vineyards; yea, they shall dwell with confidence, when I have executed judgments upon all those that despise them round about them; and they shall know that I am the LORD their God.