Accepting God's Provided Way At The End Time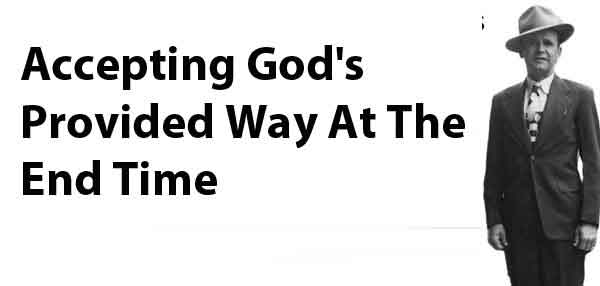 INSPIRATION FOR TODAY
Daily Bread
II Samuel 22:31
As for God, his way is perfect; the word of the LORD is tried: he is a buckler to all them that trust in him.
THE SON OF MAN MINISTRY
🦅🦅🦅🦅🦅🦅🦅
63-0115
Accepting God's Provided Way At The End Time
Did you ever notice a little chicken when he gets out of the shell? He's got a extra, little beak upon his shell, a little white scratcher. And the little fellow in there, just as life begins to come, he begins to nod his little head. What does that do? That little scratcher scratches the shell, and makes it thin. As he gets a little more life, he begins to hammer with that little thing. And after he's already out of the shell, he don't need it anymore, so it just drops off.

And the thing that does, it's a protection for the end of his bill. If it wasn't so, he'd have a deformed bill, and couldn't pick up his grain. Oh, my! God's provided way of survival! God fixes him up, just the way to get out of there. There's no better way. Anything else would kill him. He must come God's provided way. Now, if you try to manufacture some way or figure out some way, you'll kill it.

That's what's the matter with the Christian church today. It's tried to accept some manufactured way, in the stead of beating its way through, to the Kingdom of God.
So WE FIND CHRIST going about
HEALING THE SICK,
SPEAKING TO THE PEOPLE,
TELL THEM THEIR
DIEFFERENT AILMENTS,
or WHATEVER WAS WRONG,
and THEY SAID
"THAT'S BEELZEBUB.
You see, HE's A FORTUNETELLER,
WE KNOW
HE COMES FROM THE DEVIL,"
and so forth.
BUT IT DIDN'T
HINDER CHRIST
A BIT.
HE KNEW
HE WAS SENT
for A DIVINE PURPOSE,
and HE WAS
DETERMINED
TO FULFILL IT,
for HE KNEW
WHAT THE LORD
HAD SAID.
HE WENT ABOUT AT THE TASK.
EVERY TRUE SERVANT OF GOD
WILL DO THE SAME.
IF IT'S NO MORE
THAN A LITTLE DISHWASHER IN THE KITCHEN BY A HOUSEWIFE
(AMEN),
SHE WILL STAND TRUE
WHEN SHE REALLY SEE
THE REVELATION OF THE LORD JESUS CHRIST.
NO MATTER
WHAT THE NEIGHBOUR SAY ABOUT HER
'CAUSE SHE LETS HER HAIR GROW OUT
and WEARS DECENT CLOTHES…..
THE NEIGHBOURS WILL SAY
SHE'S GONE
OLD FASHION.
55-0604 – Jairus, A Secret Believer
Rev. William Marrion Branham.